Bobby Beale
Bobby has overcome a complicated start in life - Garry thought he was his father until a blood test proved it was Ian. Not to mention enduring the revolving door of his father's love life...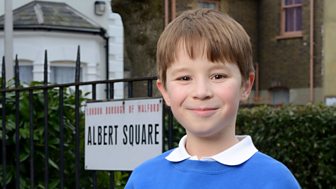 | Fact title | Fact data |
| --- | --- |
| First appearance: | 24th July 2003 |
| Address: | Off The Square |
| Occupation: | Schoolboy |
We feel for cute-as-a-button Bobby Beale, whose home life is about as stable as Kim Fox-Hubbard in stilettoes after ladies' night at R&R.
Bobby's biological mum, Laura, died in dubious circumstances. Jane was the closest thing to a mum he had.
As for paternity - rumours were rife that Garry Hobbs was his father after a drunken fling with Laura, until a blood test prevealed Ian to be his real dad.
Played by Rory Stroud
Find out more about Bobby's Walford connections and play quizzes and games in our family tree.