Captain James
A charismatic leader and a brilliant officer.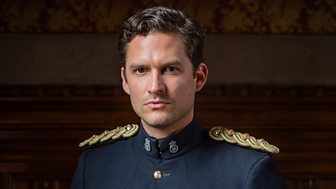 He's an army man to the core. He is totally committed to his work, a consummate professional; he has the respect of everyone he works with.
A bit of a renaissance man, James is loved by all the men who fight alongside him. He always maintains clear boundaries between fun and work; that is until he met and fell in love with army medic, Molly Dawes while on tour in Afghanistan. She taught him more than he ever imagined. But after recovering from his injuries back home in Bath, James is back taking charge of a platoon in Kenya.
Ben Aldridge
Ben made his television debut in The Devil's Whore, playing Harry Fanshawe, husband of the title character. He's appeared in First Light, Lewis, Toast, and Vera before taking on the role of Daniel Parish in the BBC One period drama Lark Rise to Candleford.
His recent television credits include Lucky Man, Fleabag, Detour and Reign.