Mark Brownlow - Series Producer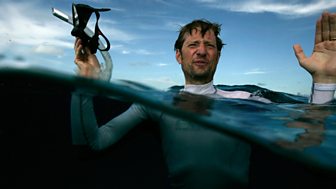 Mark is a highly acclaimed wildlife film-maker with over twenty years experience producing and directing documentaries for the BBC.
Career highlights
Living with a tribe of crocodile worshippers in New Guinea during the filming of the 'South Pacific' series.
Being nipped on the backside by a lion in the Kruger National Park, in South Africa, whilst filming for 'The Really Wild Show '
5 questions for the series producer that brought you 'Hidden Kingdoms'
1. How would you describe Hidden Kingdoms in three words?
this is the first time that little creatures have really taken centre stage

Mark Brownlow
Ambitious, complicated, fun.
This is by far the most ambitious and complicated series I have ever worked on. Our subjects may be small, but the preparation and detail to bring their extraordinary stories to the screen was a massive challenge.
2. How did you go about selecting the main characters and locations to feature in your programme?
I wanted Hidden Kingdoms to be universal and offer a diverse range of remarkable little animal stories from across the globe. So from the steaming jungles of Borneo to the scorched desert of Arizona, we searched high and low to film the most extraordinary little animals across the series.
Each character has an exceptional survival trick up its sleeve - whether it is extraordinary turns of speed or tolerance to venom.
3. What makes this series unique to other Natural History documentaries, what challenges did creating this 'new style' bring?
We wanted to transport the audience into the Hidden Kingdoms and as far as it is possible, give the audience the experience of what it is like to be only six inches tall and live alongside our little heroes. To achieve this became an enormous technical challenge and required the development of specialist lenses and a whole lot of patience getting close to these remarkable subjects.
4. Why did you decide to make a series with a more dramatised and personalised approach?
We have all seen a lot of nature documentaries centred on larger animals but this is the first time that little creatures have really taken centre stage.
As we began to dig deeper, we discovered that by comparison their lives are far more action packed and dramatic. They live in a pressure cooker environment where every day they are either hunting or being hunted. Their high octane lifestyle lent itself to this more dramatized approach and by personalising their stories we hope the audience can become emotionally involved in the challenges they face.
5. Did you derive inspiration from any unusual sources when writing your stories?
All our stories are underpinned by rigorous science. Our challenge was to find the most remarkable real-life stories from the natural world and provide a framework that highlighted their most extraordinary behaviours.
For example we knew we wanted to feature a mouse in the series - so when our researcher discovered the grasshopper mouse living in the wilds of Arizona that makes a living slaying giant invertebrates, that is immune to venom, and that stands up on its hind legs to howl, we knew we were on to a winner.