Are 'Friends' Electric?
Electronic dystopian futurism enters the charts!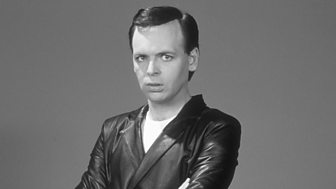 | Fact title | Fact data |
| --- | --- |
| First released: | May 1979 |
| Written by: | Gary Numan |
| First recorded by: | Tuibeway Army |
| Cover versions by: | Groove Armada, Moloko, The Dead Weather, Robyn Hitchcock |
Synopsis
Often derided at the time for its obvious debt to the earlier pioneers, 'Are 'Friends' Electric?' is definitely one of the odder records to be featured on The People's Songs. By its author's admission it has no recognisable hook or even chorus; its five plus minutes being based mainly on repetition and atmosphere. And were it not for the fact that Tubeway Army's first album was averted from being a punk album by dint of the fact that Gary Numan found a synthesizer in the studio they were working in, history could have been very different.
You know I hate to ask, but are 'friends' electric? Only mine's broke down and now I've no-one to love

Are 'Friends' Electric?
Its constituent parts are easily broken down into one part Bowie (vocals), one part Brian Eno (atmospheric synthesizers); one part krautrock (again, glacial synths); and about three parts J. G. Ballard meditation on post-industrial angst. And despite the lack of a chorus, what the song does have is a massive riff at its heart that's instantly recognisable.
Its science fiction overtones make it a perfect bookend to The Tornados' 'Telstar', for where Joe Meek's futuristic confection summed up the optimism and appetite for technological advancement, 'Are 'Friends' Electric?' pictured a bleak dystopia where the souring of the '60s and the grey '70s had wrung any ounce of hope out of the future. The song positively drips with existential angst, and its allusion to robotic companionship only highlighted the lonely vibe. Numan would soon go solo and deliver far more alien hits, but 'Are 'Friends' Electric?' remains his finest moment of science fiction doom.