Fiona Talkington
The books balanced on Fiona's bedside table are a bit of a give-away! A pile of Norwegian novels and a Norwegian dictionary as well as several poetry anthologies.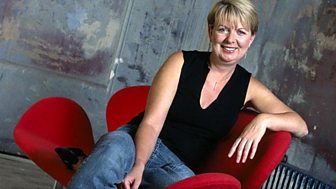 Haydn Sonatas sit open on her piano only just obscuring a volume of Hungarian ragtime music. Shuffle her i-Pod and you'll find a bizarre mixture of Beethoven, Jan Garbarek, Yes, Kimmo Pohjonen and Handel's Messiah.
Try to track her down during the summer and she'll be basking in the midnight sun at festivals in Norway. She has become closely involved with the Punkt Festival in Kristiansand whom she brought to London in 2008 when she curated Scene Norway at London's newest concert venue, Kings Place.
In 2009 she was awarded the Royal Norwegian Order of Merit for her championing of Norwegian arts, and in 2004 she was awarded the presitigious Molde Rose by the Molde International Jazz Festival.
When not in Scandinavia, you're most likely to find Fiona behind a radio mic: for about two decades she's presented BBC programmes, live concerts and features during most hours of the day or night. She is best known for presenting BBC Radio 3's award winning programme Late Junction which allows Fiona free rein of her loves of all sorts of music from Chamber to Folk or Electronica and Choral.
Fiona also has an MA degree in Literature and the Visual Arts specialising in the writings of Sir Kenneth Clark. Time off will find her in the stands at the Madejski Stadium in Reading or, if time permits, travelling to see Liverpool FC. "Situate Anfield in a Norwegian fjord and you'd probably have my dream location" she smiles. A diagnosis of breast cancer in 2008 has, she says, made her more determined to live life to the full.