Linda Wallander
Linda is Kurt's daughter.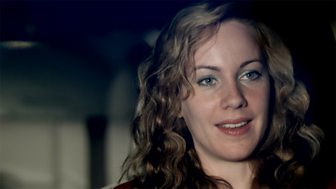 | Fact title | Fact data |
| --- | --- |
| Marital status | Recently married |
| Qualities | Reflectiveness, sensitivity, tolerance |
| Flaws | Anger, judgemental |
Linda's always had a stormy relationship with her father, but he's saved her life on more than one occasion. First, when she tried to commit suicide as a teenager, and second, when a suspect in one of Wallander's cases took her hostage.
Let's not do this any more, Dad…

Linda
Linda was close to her grandfather, who she felt she could communicate with better than her Dad.
Linda has recently met a man, Hans, and married him on an impulse. She didn't invite Kurt, which upset him greatly, and they've hardly spoken since.
When they do eventually get back in touch, Linda has grown up and moved on considerably. She's changed, and she hopes that her Dad can change too.
Jeany Spark
Graduated from Oxford University with a first class degree in English in 2004, and from the Royal Academy of Dramatic Art in 2007 (from Internet Movie Database).