Len Lomax
Len is a contemporary of Ray's, was his boss in the police force.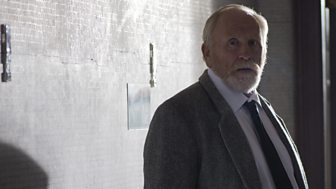 Bio
The subject of unproved corruption allegations, Len is a resolutely old school copper who still believes in his power and right to dictate the course of events. Despite living in a care home he still has the ability to call up muscle to do his dirty work and to assume current and former police officers will close ranks. He sees himself as a fixer and much of his mendacious, ruthless behaviour is driven by a fierce loyalty to and surprising insight into his friends lives and problems. He cares about them. A charismatic intelligent man, Len will go down fighting, clear in his world view, with no time for liberalism. He's a man who has been in the front line and woe betide those who dare assume moral superiority over him and his like who are willing to get their hands dirty on society's behalf.
James Cosmo
James Cosmo is best known for his film roles as Angus MacLeod in Highlander, Campbell in Braveheart and as Father Christmas in the adaptation of The Chronicles of Narnia: The Lion, the Witch and the Wardrobe. Over the years he has also had roles in films such as Trainspotting, The Last Legion, Troy, and 2081. He also appeared in Take the High Road as Alex Geddes from 1982-83. He is currently portraying Jeor Mormont, Lord Commander of the Night's Watch, in the acclaimed HBO series Game of Thrones.