Bill Paterson
Bill Paterson plays James Perez in the new series of Shetland.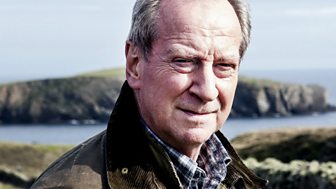 You play Perez's father, James. What sort of relationship do they have?
They've got a nice relationship, nothing unpleasant, but there's a rivalry there of passing on the baton which causes a little father-son tension - you know that moment when the father tries to tell his son the way something is and his son says, "Yes dad, I kind of already know that!".
What is James Perez like?
A jack of all trades. Often you think 'what does this guy do for a living?'. In a place as small as Fair Isle, you really need to be good at everything to survive so you can't really pigeonhole yourself. The fact that James was a lay preacher makes him interesting.
He's obviously got a patriarchal position in the community, which is why Dougie's character Jimmy turns to his father to help him with the enquiry, because he thinks it'll bring people out of themselves if he speaks to them.
What attracted you to the Shetland drama series?
I was very glad Shetland got to come back for a second series. I think the idea that Scotland is filled with the most incredible landscapes - everytime I get the opportunity to return to work in Scotland I can't help but be impressed by our filmic landscape. The thing about filming in Fair Isle - and this was utterly unique - was we could do a scene and then just throw the schedule up in the air, and as we had such a small unit filming there, we could move quickly and that's everybody's dream of filming. It's fantastic.
You filmed on the remote Fair Isle – what was that like?
I had been in Shetland before but not for any great length of time so going back for this was wonderful. And to get to film in Fair Isle... I was one of the lucky ones.
The flight to Fair Isle was incredible. The plane was tiny – it was really a transit van with wings on it - in fact it was flimsier than a van. It only took 20 minutes to get there but it was a beautiful flight because you're not flying high and we had a surprisingly calm day.
Aly Bain [a famous Shetland fiddler] is a very old friend of mine so any friend of Aly Bain is welcomed to Shetland with a red carpet everywhere you go!
I loved it. I'd go back tomorrow if they'd have me.
How was it working with Douglas Henshall?
It was an absolute pleasure to work with Dougie. We worked together many years ago in BBC drama Sea Of Souls, where he played a flaky character, as many were in Sea Of Souls. And of course, I've known him back and forth over the years. In fact, physically, I think we're a good match as father and son.
Can you tell us a little bit about the storyline you're involved in?
A car backfiring is major news on Fair Isle so the idea of a murder in a community like that would be staggering. Storyline-wise, it's an unusual occurrence. And what it opens up is a can of sexual tensions, which ripple through the island.
What do you think makes Shetland such a unique location?
Well, because so much of it is coastline you can pick and choose where to film, which is incredible. It's also because much of it is unexplored as a film location and, as far as I'm aware, Fair Isle's not been featured in any drama before.
There's that sense of newness and you do have this sense when you're there that you're closer to Scandinavia than Scotland. You do feel as though you've stepped into Scandinavian territory which, of course, is terribly fashionable in the world of drama.