Florence Cassell
Twenty seven year-old Florence Cassell has risen to the rank of Detective Sergeant pretty fast for someone still so young. But that's because Florence is incredibly good at what she does. She's dedicated, focused and has a great nose for sniffing out those with a guilty conscience. In short, she makes an excellent detective.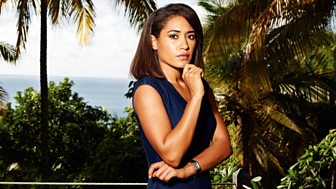 Having grown up in a house full of men (she has five older domineering brothers) she learnt from a young age that to stand out she had to learn to be assertive, to be strong-minded and, above all, to not be a pushover. And growing up in this environment explains why Florence is so good at spotting when someone is lying or hiding something. It's because she's seen it all before with her rascal brothers.

But aside from being such a good police officer, Florence is friendly, charming with a winningly mischievous sense of humour – qualities which have endeared her to Humphrey, for whom she has become a close friend as well as a valued colleague and someone he turns to for guidance as he navigates his love life and starts dating Martha.
About Joséphine Jobert
Originally born in Paris, Joséphine moved to Montreal at the age of 12 where she learned acting, dancing and singing, eventually returning to France to pursue an acting career. She comes from a family of artists. Her mother is Véronique Rouveyrollis, a photographer, musician, writer, performer and director and her father, Charles Jobert, is a director of photography. She is also cousin to Elsa Lunghini and Eva Green.
She gained notoriety playing Amel in the popular youth show Saint-Ex, nos Années Pension in 2008, and enjoyed 15 weeks in the French pop charts with a song from the show, which Joséphine sang.
Since then, she has continued her success playing long term character Alice Watson in Lightning which won the award for Best Youth Fiction Series at the TV Festival of La Rochelle and is one of France's most widely exported series. She then landed the part of Roxanne in the popular French soap opera, Sous le Soleil de Saint-Tropez (2013-2014). She also appeared in The Judge Is A Woman, Cut!, Paroles and will feature in the next series of Villa Kariybes.
She joined the cast of Death In Paradise for the fourth series, in January 2015.