Kenton Archer
The phrase 'he's a constant worry to his mother' could have been invented for Kenton.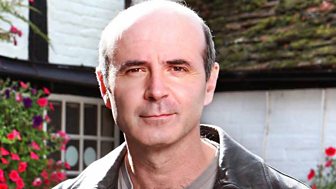 | Fact title | Fact data |
| --- | --- |
| Played by: | Richard Attlee |
| Born: | 8 August 1958 |
| Status: | |
| Occupation: | Pub co-manager |
| Lives and works at: | The Bull |
Unlike his twin sister Shula, stickability is not his strong suit. Parents Jill and his late father Phil have had to bail him out on numerous occasions, usually after uncovering a web of white lies.
Pasting over his shortcomings with copious quantities of boyish charm, Kenton hopped from an unspectacular career in the merchant navy, via several failed businesses and one failed marriage, to a precarious position managing a cafe. He showed determination in converting it into a trendy bar (Jaxx), where he was much more at home.
Sadly his uncharacteristic single-mindedness was partly responsible for the end of his relationship with Kathy Perks in 2010. But the split led to a wonderful relationship with the arguably much better suited Jolene. The only complication was that Jolene is the widow of Kathy's former husband Sid.
As the relationship blossomed, Kenton first moved into The Bull, and in 2012 took on a full-time job there. They married in November 2013.
Hey Dave mate, fancy a night out with the lads?

Kenton Archer
Likes - Chatting up customers, daydreaming, fun
Dislikes - Farming (says he'd rather sit in a shop), routine
Highs - His unswerving and sensitive support of Kathy during her ordeal with Gareth Taylor, Jolene agreeing to marry him
Lows - Having to leave his daughter Meriel on the other side of the world
Richard on Kenton
Kenton will always be there for you…possibly…well, probably. He is a mercurial mixed-up middle-aged man, 50-something going on 21.
In spite of his fiery, impulsive and somewhat self-absorbed nature, he can at times offer calm, sensitive and thoughtful support to others. His heart is in the right place but his mind is often elsewhere.
Richard Attlee
Richard was first heard on The Archers in 2000 as the bus driver in Debbie's stag night story and, soon after, as a lettings agent in a story....he has long since forgotten! These were his first forays into radio, which came about as a result of his having worked with Archers director Sean O'Connor on a theatre job a few years earlier.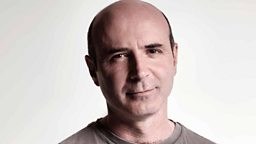 Months later, Richard journeyed to Pebble Mill once more. This time it was to read for the role of Kenton Archer, who was set to return after several years away in Australia. He was thrilled when cast as Kenton and immediately became embroiled in sibling squabbling over Phil and Jill's inheritance. Kenton did not hang around for long on that occasion, but (thank the good Lord) 18 months later he was back, and has been the cause of joy and irritation ever since.
Elsewhere Richard has enjoyed a varied career, predominantly in the theatre. He has worked in the West End, at Shakespeare's Globe, on the London fringe, in repertory and has also toured extensively throughout the UK and abroad.
His television and film credits include Silent Witness, Party Animals, Midsomer Murders, Ultimate Force, Longford, Dunkirk, Filth – The Mary Whitehouse Story and Mike Leigh's Topsy-Turvy.
Originally from Beaconsfield in Buckinghamshire, Richard now lives in Lewes in East Sussex with his wife Miranda and their two children, Grace and Harry.
Archers highlights
I really enjoy the relationship between The Archers siblings, both in times of conflict and conciliation. The scenes dealing with the family coming to terms with Phil's death were wonderfully played by those around me, and a fine tribute to Norman Painting I hope.
Other career highlights
I think the most fun I have ever had on stage was playing Fancourt Babberly in Charley's Aunt at the Northcott in Exeter in 1994. 'Twas a hoot!
'Twas a hoot!

Richard Atlee
A rather more serious but equally rewarding part was that of Sir Charles Sturman in The Clearing by Helen Edmundson, about genocide in Ireland under Cromwell. This was performed at the Tricycle Theatre for Shared Experience in 2002 and on tour.
Favourite
Actor - Ben Kingsley in Sexy Beast and Jean Simmons in anything.
Book - A Prayer for Owen Meany by John Irving. The most moving book I've read.
Film - Spartacus or maybe Annie Hall or perhaps a more recent one, Let The Right One In. They'd make an interesting alternative 'box set'.