Bert Fry
Bert is one of Ambridge's vintage characters.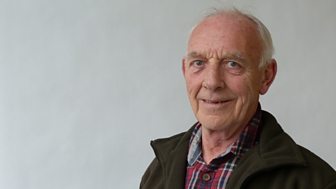 | Fact title | Fact data |
| --- | --- |
| Played by: | Eric Allan |
| Born: | 7 June 1936 |
| Status: | Widower |
| Occupation: | Retired farm worker |
| Lives at: | Brookfield Bungalow |
With his rural verse and words of wisdom for every occasion Bert both entertains and infuriates the assembled company in equal measure. Easily bored, he will never truly retire. His hobbies and interests ensure that he's kept busy in the village from dawn to dusk.
He was tirelessly supported and provided for by faithful wife Freda until her death in March 2015.
I don't what I'll do without my Freda

Bert Fry
Likes - Composing verse, reciting folklore, competitive ploughing, wild flowers, cricket, black pudding... the list goes on
Dislikes - People who don't listen to his folklore, heights, daytime television
Highs - The birth of his granddaughter Amy, getting a job as a tour guide at Lower Loxley
Lows - When a lorry smashed into Woodbine Cottage, rendering him and wife Freda temporarily homeless
Key relationships
Joe Grundy (Foe) - Long standing rivalry for the role of rural village stalwart
Lynda Snell (Foe) - Has issues with her projects - he's thrown many a spanner in the works
David Archer (Friend) - and occasional employer.
Immediate family
Trevor Fry (Son)
Amy Fry (Granddaughter)