Zoe Hanna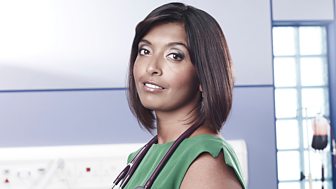 | Fact title | Fact data |
| --- | --- |
| Arrival: | 29th December 2007 |
| Position: | Consultant |
Zoe is an intelligent, highly-talented and ambitious doctor. There's a chaotic and flamboyant energy about her that affects everyone she meets. She is one of Jordan's closest confidants and one of few people who can get away with calling him Nick. She is the perfect mix of a fun-loving woman and a dedicated, skilled, doctor.
Zoe Facts
After Zoe discovered she was infertile, she took steps to foster Sharice, but then she realised that she would always put her job first.
She had an affair with Jessica's husband Sean.
She slept with a 15-year-old who then tried to blackmail her.
She forged Jordan's consent to surgery, which lengthened his life expectancy by numerous years.