Katrice Lee disappearance
The Royal Military Police are re-investigating the disappearance of Katrice Lee who has been missing for over thirty years.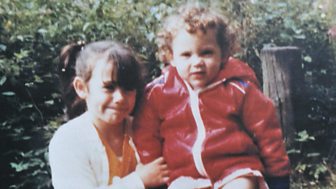 | Fact title | Fact data |
| --- | --- |
| Incident date | November 28 1981 |
| Nature of incident | Missing person |
| Where | Paderborn, West Germany |
| Contact | |
| Incident room number | UK Freephone: 0800 616888 / German Freephone: 0800 723 5229 |
What happened?
The royal military police are re-investigating the disappearance of Katrice Lee who has been missing for over thirty years.
On 28th November 1981, the two year old toddler, Katrice Lee, disappeared from a NAAFI shopping complex in Schloss Neuhaus, Paderborn in West Germany.
The family at the time were living on a British Military base in Schloss Neuhaus near the German town of Paderborn as her father, Richard Lee, was stationed as a sergeant in the British Army. Katrice had spent the first two years of her life living in Paderborn.
On Katrice's 2nd birthday, her family went to the NAAFI shopping complex in Schloss Neuhaus to buy things for her birthday party. Katrice's older sister, Natasha, decided that she did not want to go shopping so she stayed at home with her Uncle Cliff.
Katrice's father, Richard Lee, drove them to the NAAFI and waited for them in the car-park. It was the last payday before Christmas so the Naafi was very busy.
Katrice's mother, Sharon and her Aunty Wendy took Katrice into the NAAFI store. Katrice decided she did not want to go in the trolley so Sharon carried her around the NAAFI supermarket.
As Sharon got to the checkout, she suddenly remembered that she had forgotten to pick up some crisps; she put Katrice down and went back to get them and left Katrice with her sister, Wendy.
When she returned to the checkout, Katrice was nowhere to be seen. Her sister said she had run after her mother down the aisle but there was no sign of her - she had vanished.
Katrice had a pink birthmark slightly to the right of the base of her spine, which looked like a rash.
She also had a squint in her left eye, which could be corrected by surgery; she possibly may wear glasses. Her curly hair was light brown, and she had brown eyes.
At the time of her disappearance her ears were not pierced and she spoke only English. Katrice was wearing red wellington boots and a turquoise duffel coat.
Police reviewed the case of Katrice Lee in 2000 and Katrice's older sister, Natasha, appeared on Crimewatch to highlight the appeal. Her family are still campaigning and haven't given up hope of seeing her again.
The Royal Military Police have launched a reinvestigation into the case to help in the search to find Katrice Lee.
There are three theories:
1. One of them is that Katrice may have got herself out of the NAAFI of her own accord and walked across that busy car park at the back, negotiated the two buildings, and sadly met her fate by falling in the very fast flowing River Lippe, with her body never being recovered.
2. There is the possibility that Katrice was abducted for sexual gratification and subsequently murdered.
3. The third viable hypothesis is that Katrice was abducted as a surrogate child, by a couple, or an individual who couldn't have children, and that she's alive and well to this day, but completely unaware of her background and indeed her true identity. As part of the theory that Katrice is still alive, the investigation has commissioned images of her as she might have looked at different stages of her life (see the gallery, below). Age progression images of her aged 6, 11, 16, 21, 28, 33 have been released and are based on photos of herself and her family.
Appeal points
Katrice's eye defect – keen to trace any teachers or classmates who may have taught/been in the same class as the person depicted in one of the age progression images.


Katrice had a defect in her left eye – a squint - which would have required corrective surgery. Are you a nurse that cared for a little girl fitting Katrice's progressed image or indeed a surgeon who performed the operation?


Were you serving in Paderborn in November 1981 and if so can you recall visiting the NAAFI on that day of the 28th? 1,800 people visited on that day, there are bound to be a great number that have not been spoken to. From that group of people, we are particularly interested in tracing owners of Green Cars. We have some witnesses who recall seeing a young girl fitting Katrice's description, which they connect with such a vehicle. This is an elimination process. If those car owners could come forward they could be ruled out of the enquiry.


Did you work for the NAAFI? 38 people were on duty that day. If you were working on the day Katrice disappeared please get in touch.


Did you live in one of the Service Married Quarters on an Estate in Paderborn commonly referred to as 'Legoland'? If so, we urge you to please get in touch.


Did you know Katrice and her family? No matter how little, we need as much information about the family as possible.


Katrice was wearing a turquoise duffel coat from Mothercare from 1980 (it was the only mail order catalogue that served the British Forces in Germany) were you in this coat in the NAAFI store on that day? We need to eliminate you.


General appeal to the community for any information.