Glenn Campbell
Not to be confused with the country and western singer. This Glenn Campbell (two "n"s in Glenn) presents Newsnight Scotland on Gordon Brewer's day off.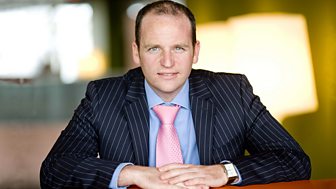 His day job is as a political correspondent, based in the Scottish Parliament since 2001. From there, he contributes to a wide range of BBC TV, radio and online coverage. He also presents the Scottish edition of the Politics Show and occasionally moonlights as a presenter on radio's Good Morning Scotland.
Originally from the Isle of Islay, Glenn got his start in journalism at Radio Clyde in Glasgow and Edinburgh-based Scot FM, where he became head of news and sport.
Major reporting assignments include Macedonia during the Kosovo war, New York in the days after 9/11 and Gleneagles throughout the G8 summit in 2005.
He has also appeared on live TV feeding fish to the seals at Chester Zoo during a stint with Breakfast News.
Off camera, Glenn enjoys reading, travelling and good food. He tries to keep fit by cycling.
In February 2010, he won the Royal Television Society's Award for "Scoop of the Year" for breaking the story that the Lockerbie bomber was to be released from prison in Scotland and flown back to Libya beating the best of BBC Network, Sky, ITN, CNN among others.