Etholle George
Etholle George started her working life as an accountant in the City of London.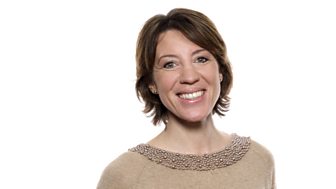 Realising that she talked far too much to sit by herself in an office all day, Etholle joined BBC Essex - her local radio station - in 1993.
As a result she has spent the last 17 years or so sitting in a radio studio by herself, talking into a microphone.
Over the years she has hosted a huge variety of news and current affairs radio, as well as magazine programmes.
In 2000, she joined Look East as a newsreader, presenting regular TV news bulletins and reporting as well, from both Cambridge and Norwich. She still presents the late bulletin from Norwich on a regular basis.
She first presented the Politics Show back in 2002 and admits being very nervous at the time, 20 minutes of live TV seemed very daunting. But Etholle's really passionate about making politics accessible.