Johnny Proude
Johnny was born in a mining village and launched a career in domestic service in an effort to escape a life down the pit.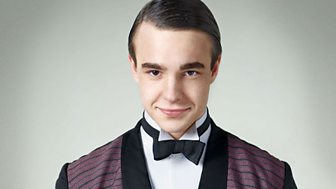 Charming and hard-working, he was popular with the other servants. Unfortunately he was on probation for fighting whilst under the influence of drink and a disastrous night out in resulted in a second conviction and a spell in Borstal. His life appeared to be in ruins, but thanks to Mr Pritchard's intervention, he was restored to Eaton Place.
Johnny's conduct since has been exemplary, and Mr Pritchard considers him his protégé. But Johnny is too young and innocent to be anything other than excited by the prospect of war, and the feverish atmosphere around the Munich Agreement goes to his head. Acting on impulse, he makes a decision which affects Mr Pritchard, his steadfast friend, in a profound and lasting manner which will see Johnny grow from a boy to a man.