F.Y.R Macedonia
Representing F.Y.R Macedonia is Tijana with To the Sky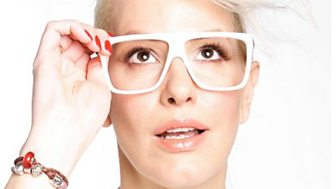 Tijana Dapčević was born into a musical family in Skopje, Macedonia. Her father is a music professor, her mother was an opera prima donna and her sister Tamara, also a popular singer, will perform as Tijana's backing vocalist in Copenhagen.
When I'm on stage, it feels like home. That's the most important to me, no matter if I'm singing or acting because being on stage makes me happy.

Tijana
Tijana started to play cello when she was seven years old, and graduated from the faculty of Music in Skopje as a cello teacher. She went on to play in the Macedonian Philharmonic Orchestra and in the international orchestra of Leipzig.
Her breakthrough in pop came in 1994 when Tijana scored her first hit. Since then she has published five albums and recorded several songs with many Macedonian artists. Besides pop music, Tijana also performs as a theatre actress, and has an army of fans throughout the Balkans.