Adam Trueman
Played by Tristan Gemmill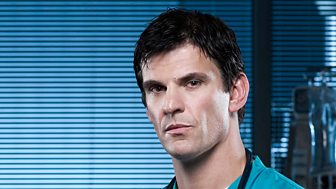 | Fact title | Fact data |
| --- | --- |
| Arrival: | Series 22, Episode 3 "Meltdown" |
| Final Appearance: | Series 25, Episode 47 "Thanks for Today" |
| Position: | Consultant |
Adam Trueman was a consultant in the Emergency Department. Charming, good looking, cool and confident, some would say that Adam had it all. He was a hit with the ladies, very flirtatious, but above all a great doctor.
At a party, Adam met Jessica Harrison and they had a one night stand. He was shocked to find that she was the department's new nurse when he arrived at work the next morning. He was even more shocked to discover that Jessica was married to surgeon Sean! He and Jessica began an affair, but she broke up with him after her son Lucas was injured in a road accident while they were together.
Adam clashed with new clinical lead Nick Jordan, especially when Jordan helped Adam's disabled brother Alex sign a Do Not Resuscitate notice. Adam was devastated when Alex died after a long illness, but he did finally make his peace with Jordan.
When Adam discovered Jessica's new son Harry could be his, the pair renewed their relationship and eventually, with Jessica having now divorced Sean, Adam proposed. Although Jessica turned Adam down, they stayed together, and a DNA test confirmed Adam was Harry's father. Jessica later accepted Adam's proposal and they arranged a New Year wedding. But the ceremony was aborted when they were called back to the ED to deal with a major accident, and they had to settle for a blessing in the hospital chapel. They returned to the wedding venue to sign the legal papers, but their car skidded onto an icy lake and plunged in to the water. Adam tried frantically to save his family but Harry drowned and Jessica was left in a coma.
Jessica gradually recovered but she and Adam drifted apart, leading to her departure to America with old friend Linda, leaving Adam devastated.
Later Adam struck up a tentative romance with nurse Kirsty and supported her in dealing with her abusive husband, Warren. But when Warren died, Kirsty decided to leave the past, Holby and Adam behind. By this point Adam was obviously struggling to cope and started to 'play God' with the lives of his patients. Jordan became suspicious of Adam and matters came to a head when a paedophile Adam had illicitly given chemical castration medication to was brought in with liver failure. Adam redeemed himself by treating victims of an explosion at Holby airport but decided to leave the ED for good before his misdeeds came to light.
Adam Facts
Adam was orphaned aged eight in the same car accident that crippled his brother Alex.
Along with his relationships with Jessica and Kirsty, Adam also shared a kiss with Alice and Zoe!
Adam was an inspirational leader to the ED team as they fought to save Tess after she was badly injured on the Farmead estate.
Adam got a lesson about spreading gossip when he told the ED that Jordan had received a large bonus to come downstairs and work with them - what he didn't realize was that Jordan had used his bonus to buy equipment for the hospital!