Moray
The Paradise's dashing and reckless entrepreneur.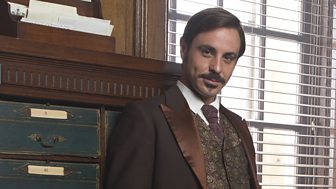 Having broken off his engagement with Katherine and declared his love for Denise, Moray lost ownership of his store and was banished from the city. Now re-called to his beloved Paradise he is more determined than ever to win back the store and secure his future with Denise. Confronting the consequences of his past, Moray also faces a new nemesis in Tom Weston as he embarks upon a perilous plan to take back what he sees as rightfully his. His oldest friend Dudley and his loyal defender Jonas battle for allegiance as he learns hard truths about himself and the woman he loves.
Emun Elliott
Emun has appeared in many notable television shows including Labyrinth, Lip Service, Game of Thrones and Threesome. His recent film credits include Ridley Scott's star-studded sci-fi epic, Prometheus, Strawberry Fields and the adaptation of Irvine Welsh's Filth.