Gemma Charles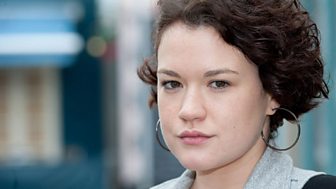 Merch bywiog a llawn egni yw Gemma. Mae hi'n mwynhau joio ond mae ochr ddrygionus iddi hefyd. Mae'n gallu tynnu'n groes, yn enwedig gyda'i hewythr hi Ed â'i gariad ef Angela.
Ymgartrefodd Gemma yng Nghwmderi yn 2011 gyda'i theulu: Ed, Angela a merch Angela, Courtney pan brynodd Ed ac Angela y Deri. Ed magodd Gemma oherwydd pan roedd hi'n fach iawn, anfonwyd ei thad hi, Andrew, i garchar am ladd ei mam. Rhyddhawyd Andrew yn 2011 a daeth i ymuno a'i deulu yn y Deri am sbel cyn penderfynu mai mynd oddi yno fyddai'r peth gorau i Gemma a'r teulu.
Er bod Gemma yn ferch glyfar, mae hi'n ddiog gyda'i gwaith ysgol. Mae'n well ganddi hi fynd allan gyda'i ffrindiau.
Gemma Charles (English)
Gemma is a lively and energetic young girl who likes to have a good time but there's also a more mysterious side to her character. She doesn't always tow the line, especially with her uncle Ed and his partner, Angela.
Forced to leave her friends behind, Gemma wasn't happy when she had to move to Cwmderi in 2011 when Ed and Angela bought the Deri. She was raised by Ed from a very early age as her father, Andrew, was sent to prison for the murder of Gemma's mother. Andrew was released in 2011 and joined the family in Cwmderi for a while, before realising that leaving Gemma would be in her best interest.
Although Gemma is a clever girl, she's lazy and would rather be out enjoying with her friends.