Hal
Hal has been a vampire for over 500 years and the temptation for blood and carnage still rules his every waking thought.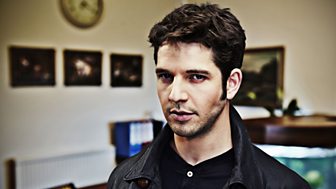 He came to live with fellow supernaturals Annie and Tom after his best friends crossed over to the afterlife. Though his standoffish nature and OCD tendencies didn't initially warm him to Tom, their affection for each other grew until they became confirmed buddies. Hal's addiction to blood proved too strong and he was – tangentially – responsible for Alex's death, marooning her in the afterlife as a ghost. At the end of Series 4 Tom and Alex strapped Hal to a chair in order to go through cold turkey… but will it prove wise to release him?
Damien Molony
Damien is an Irish actor who grew up in Johnstown Bridge, Kildare. Having graduated from the Drama Centre in 2011, Damien went on to star in Tis a Pity She's a Whore at the West Yorkshire Playhouse. Damien's casting as Hal in Being Human brought him his first television credit, though he has also starred in the short film When the Hurlyburly's Done. Since the filming of Series 4, Damien has been cast as Motl and Nate in director Nicholas Hytner's Travelling Light at the National Theatre.