Private First Class Robert L Sales
116th Infantry Regiment, 21st Infantry Division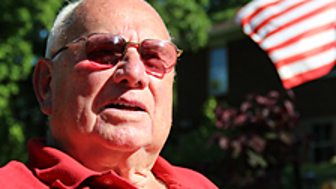 Aged just 15, Robert 'Bob' Sales joined the Virginia National Guard in Lynchburg after lying about his age. By D-Day he had progressed to Private First Class in the 116th Infantry Regiment who had been tasked with taking the western end of Omaha beach and pushing into the countryside beyond.
Sales landed on one of the most heavily defended sections of the beach near the village of Vierville. As the doors opened on his landing craft, Sales ran into a hail of bullets. After watching his best friend die on the beach, Sales finally made it to the seawall where he helped to drag those living from the edge of the water for the rest of the day.
Sales was the only man to survive from his landing craft. Promoted to sergeant, he went on to fight on the frontline for another six months after D-Day.