Dermot O'Leary
Hear Dermot, Saturdays 3-6pm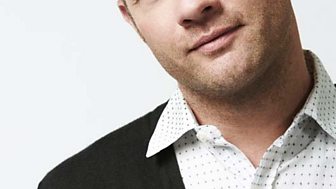 Dermot began hosting his own show on BBC Radio 2 back in 2004.
Since then he has welcomed 1000 bands into the studio, won 2 Sony Radio Academy Gold Awards and released 3 Saturday Sessions CDs featuring the best of the live performances.
For the show, he has broadcast from LA, Texas, The Brits, The Playboy Mansion and The Latitude Festival. And visited the homes of Paul McCartney, Robbie Williams and The Incredible Hulk.
He has been very supportive to new artists. Most of whom were grateful.
His radio highlights include feeding a raspberry pavlova to Mr T, learning the slap bass with Level 42's Mark King and attempting to hold a conversation with Morrissey.
If you were to rummage through his CD collection it would be primarily Bruce Springsteen, The Pogues and Royworld.
His broadcasting heroes are Terry Wogan, Bob Harris, Gambo, Heron Bellhouse and all of the traffic reporters on Five Live.
Dermot also does a bit of telly.