Jack Kelly
The brother of Grace Kelly, Jack lost his Olympic semi-final to Eduardo Risso of Uruguay.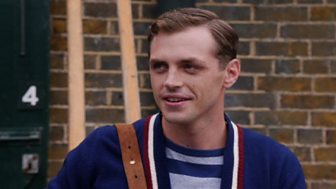 As part of the US team, Jack and his team-mates are treated to the best food and drink, flown over from California. Jack takes great pleasure in sharing steak, bananas and cheesecake with his British team-mates (whose rations aren't really enough to sustain them in training).
Nathan Wiley
This is Nathan's BBC television debut. A recent graduate of Fordham University Lincoln Center in New York City, Nathan has appeared in off-off Broadway's The Man Who Invented Himself, Photography, A Doctor in Spite of Himself, The County Hell, as well as appearances in Brights, Bliss, and Myself and Me at The Williamstown Theatre Festival 2007. TV & Short-Films: The Life of Paul, Learn to Sleep, Not Dispensing, and The Ken and Barbie Killers.