Felicity Evans
Felicity splits her on-air duties between our two flagship news programmes, and so can be heard with Oliver Hides on Good Morning Wales, and alongside Gareth Lewis & Mai Davies on Good Evening Wales.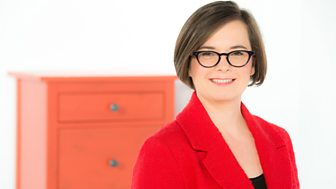 Felicity tells us a bit about herself...
"I'm originally from Ebbw Vale, but I grew up in Manchester and studied law at Oxford University with the intention of becoming a barrister. Shortly after this I realised that money isn't everything and to prove it started working for the BBC. I returned to Wales for a post graduate journalism course at Cardiff University and was soon doing shifts in the newsroom at BBC Wales."
"Since then I've worked on Wales Today and Good Morning Wales as well as on current affairs programmes Week In Week Out and Eye on Wales. In various capacities, I've covered all the major news stories of the last decade and more for BBC Wales from the death of Diana, Princess of Wales to the devolution referendum to the resignation of Tony Blair."
"My interests include books, films and bees - not necessarily in that order. Obviously I'm happiest when interviewing someone who's written a book about a film about bees."