Austria
Representing Austria is Conchita Wurst with Rise Like a Phoenix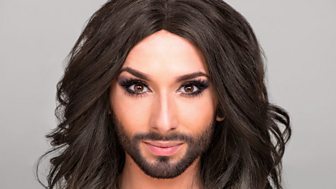 Conchita Wurst was born Tom Neuwirth on November 6th, 1988 in Gmunden, Austria, and has dreamed of a career in show business since he was a child. He got his first break in 2006 taking part in the talent TV show Starmania, and in 2007, he joined the boyband Jetzt Anders!
Be the best version of yourself rather than a bad copy of someone else!

Conchita Wurst
He performed for the first time as his alter ego, Conchita, a long-haired and full-bearded lady, in the talent show Die Große Chance in 2011. Since then, he has not gone unnoticed in Austria. More recently, Conchita Wurst has starred in the ORF production The Hardest Jobs of Austria, where she worked in a fish factory, and in Wild Girls, where a group of candidates had to survive in the deserts of Namibia together with native tribes.