Conor Scott
ELIMINATED IN THE KNOCKOUTS ROUND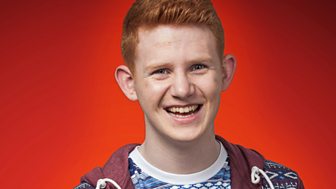 | Fact title | Fact data |
| --- | --- |
| Team | Danny |
| Age | 18 |
| Hometown | Belfast |
| Favourite Voice | Phil Lynott & Ben Howard |
He's got red hair and plays the guitar - no, it's not Ed Sheeran but he's just as good. If you live in Belfast then you've probably walked past Conor Scott on numerous occasions.
I would say the red hair makes me stand out, but Ed Sheeran has already taken that

Conor
Belfast's busiest busker is in fact an 18 year old student who has a residency in a student bar, runs an open mic night and still somehow finds the time to study Music, ICT and History! Not your average 18 year old. He's now on Team Danny which his two sisters will be pleased about - they're HUGE fans of The Script. Weird fact: Eamonn Holmes is a fan of Conor. We have a feeling Conor's going to have a few more fans now...