Marlee Brodie
Marlee Brodie is Jackson's and Josie's twelve-year old daughter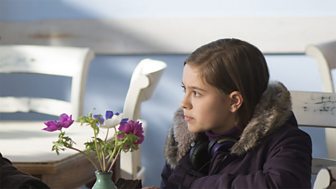 She adores her Dad, and loves spending time with him, even if it means going to murder scenes. In fact, that's even more fun than just going to the park. She has an emotional intelligence beyond her years, and she worries about her Dad, and she can readily forgive him the failings that seem to drive the other women in his life to distraction.
Millie Innes
Millie Innes is a young rising actress and already has an impressive selection of TV credits to her CV. She starred alongside David Tennant and Suranne Jones playing the youngest daughter Evie in BBC's Single Father (BBC1) and also appeared in CBBC's Dani's House.
She won Best New Scottish Actor at the 2012 Scottish Variety Awards.