Starman
Glam's premier architect brings alien androgyny to the charts!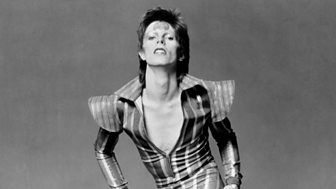 | Fact title | Fact data |
| --- | --- |
| Release date: | 14th April 1972 |
| Written by: | David Bowie |
| First recorded by: | David Bowie |
| Also recorded by: | Bob Downe, Culture Club, John C. Reilly, Seu Jorge, Of Montreal, Leningrad Cowboys |
Synopsis
Bowie's first big smash since 'Space Oddity' – a full three years before – wasn't even going to be included on his career-changing album, Ziggy Stardust, that is until an RCA executive heard the track and declared it a certifiable hit and that it be included on the album (replacing Chuck Berry's 'Round and Round'). Cue a number 10 hit single and sales that (hoho) rocketed the album up to number five.
He wants to come and meet us, but he thinks he'll blow our minds

Starman
The song's structure isn't exactly original. Many critics point out that the chorus bears a startling resemblance to 'Over The Rainbow' for a start. But the lyrics about an alien coming to save the world from strife – when matched with Bowie's otherworldly appearance – touched the public. And that otherworldly appearance was then paraded in front of families one Thursday night when they tuned in to Top of the Pops.
Forty years on, the effect of that appearance still reverberates. Not only did Bowie look like an alien, but he behaved like a very camp alien indeed. Teenagers swooned at the daring, parents tutted and a star(man) was truly born.
Culture Club to Seu Jorge - all have had their minds blown by 'Starman'