Joss Merlyn
Mary's uncle Joss is the Landlord of Jamaica Inn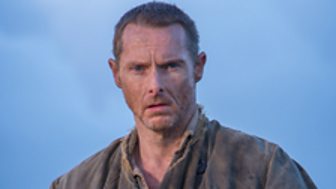 Joss is the leader of a gang of smugglers who work the Cornish coastline evading the law whose enforcers frequently search Joss's inn only to find the goods are long gone. But the smuggling has taken its toll on Joss who suffers night terrors brought on by the horrors he has witnessed, he escapes with alcohol and is prone to outbursts of violence. But he is also frightened and soon Mary starts to wonder if there is a man above Joss giving him his orders. To Joss, Mary is his conscience and her judgements torment him, reminding him of his own humanity that he drinks to forget.
Joss Merlyn played by Sean Harris...
Appearing in Ridley Scott's hugely successful Prometheus as the reckless geologist Fifield has been one of the results of a busy career for London born Sean. Beginning his career with appearances in much loved shows such as The Bill and Casualty, these were the early steps that would see him eventually secure larger roles such as playing Micheletto Corella in The Borgias. Beyond acting Sean has also began his foray into screenplays with the first of two shorts, White, that he has co-written being released in 2014.