Harry Mason
Bridge Farm Dairies took Harry on as a new milkman when they expanded their rounds in 2010. Harry is sporty, good looking and full of bright ideas, which would be plenty of reasons for Jazzer to resent him.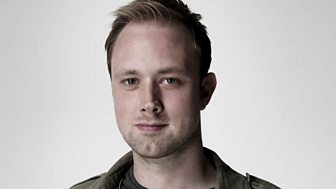 I've started this database of milk round customers...

Harry Mason
Likes - Martial arts, cricket, cycling
Dislikes - Mess, which is tricky when Jazzer lives with you
Highs - Winning the Ambridge single wicket competition 2010
Lows - Being made redundant from a building society, before getting the milkman job
Key relationships
Fallon Rogers (Friend) - He was very supportive after Sid died and helped out in The Bull.
Jack 'Jazzer' McCreary (Flatmate) - Meet Ambridge's very own odd couple
Zofia (Girlfriend)...except she's now returned to Poland. He visits from time to time
Michael Shelford
Michael grew up in Cambridgeshire. After going to the University of Exeter he attended Bristol Old Vic Theatre School. He joined the Archers in 2010 during his time on the BBC Radio Drama Company (the 'Rep')
Other careeer
Playing Luther in DH Lawrence's play The Daughter in Law.
Archers highlights
Attempting to sing Wannabe by the Spice Girls with Ryan Kelly (Jazzer).
Favourite
Actor - Mark Rylance
Book - All Quiet on the Western Front
Film - Stand By Me