Tommy Rowson
Congratulations on reaching the final! What was your initial reaction to getting through?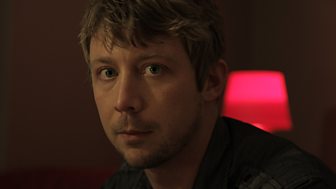 It was quite surreal. An even mixture of excitement, cider and relief.
There have been so many great shows on BBC Radio that I've got on cassette or CD.

Tommy Rowson
So what made you want to carve out a career in comedy?
The hours are really good and it seemed like a laugh.
Tell us about your first, worst and best gigs…
My first gig was about two years ago. I used to open with downing a bottle of wine, something carried over from Sunday Drinker. It went well but it started making me too hungover the next day, so I stopped doing that fairly quickly.
My worst gig was at a University ball where the football team chanted "Off, off, off" at me until I did what they wanted and got off the stage.
My best gig was probably at Bracknell Arts Centre. That venue is unbelievable. The crowd really get behind you to the point where they were laughing at things that weren't even jokes.
Describe what the BBC Radio 2 listeners can expect from your performance at the live final on November 12?
Sound life advice, mild confusion and rural poetry.
Let's go back to the very start of the competition… What was your experience at the first heat like?
I knew a few of the others in my heat; Rhys James, Matt Rees, Amy Howerska, which was good, but also strange when you're up against each other. The audience was amazing. It was in Wales and so a home crowd who were a bit biased towards me. That was great, especially as in some parts of England they make sheep noises to put you off. It all evens out.
You've been judged by some comedy greats and performed alongside your peers and, of course, Patrick Kielty. Has there been anyone who you particularly enjoyed meeting?
Jason Cook was lovely after the semi final. All the judges were that night but he was particularly encouraging to me.
Who – or what – would you say is your biggest competition in the final?
Well, I'm gonna say Matt Rees and Lucy Beaumont cause they're my mates.
Is there anything 'extra' you'll be pulling out of the bag for your performance?
I'm considering not wearing my cardigan and I'll be doing my damndest not to swear. My sister is coming along too who has a really loud laugh.
If you win, what will you spend the £1000 prize money on, and do you have any plans for what you'd like to do with BBC Radio Comedy?
I'd like to buy one of those big bottles of Jameson's you sometimes see in pubs that's about six times bigger than a normal bottle. Maybe get a few of those. And a Nintendo.
There have been so many great shows on BBC Radio that I've got on cassette or CD. I'd like to do something narrative if possible: short episodes of a continuous story.
Finally, why should people vote for you as the winner of the BBC New Comedy Award 2012?
I don't think they should necessarily. They should go for who ever they like best on the night.