Mark Ramprakash
Winner of series four in 2006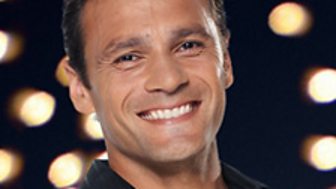 Mark Ramprakash became the second consecutive cricketer to win Strictly; he and his partner, Karen Hardy, pipped rugby player Matt Dawson and partner Lilia Kopylova to the crown.
I'd never say I was confident going out to dance because it can take one small lapse in concentration and you can go wrong.

Mark Rampakash
Mark and Karen became the first couple to re-start a routine after the couple's initial attempt saw Mark's mic get caught in Karen's dress during a salsa dance – they still managed to achieve the highest score of the night.
In 2008, Mark appeared on a Strictly Come Dancing episode of The Weakest Link; he was voted off in the firth round.
Mark's Strictly Stats
Week 1 – Cha Cha Cha: 27 points
Week 2 – N/A
Week 3 – Tango: 32 points
Week 4 – Paso Doble: 35 points
Week 5 – Salsa: 36 points
Week 6 – American Smooth: 33 points
Week 7 – Rumba: 27 points
Week 8 – Viennese Waltz: 36 points
Week 9 – Foxtrot: 28 points, Samba: 36 points
Week 10 – Waltz: 36 points, Jive: 27 points
Week 11 – Quickstep: 34 points, Argentine Tango: 39 points
 Week 12 – Tango: 34 points, Salsa: 40 points, Samba: 36 points