Echo Arena Liverpool
All the info you need about the 3rd night of 1Xtra Live 2012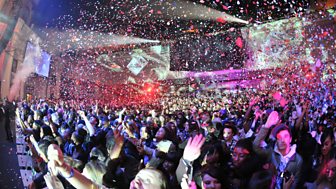 How can I get tickets to attend 1Xtra live in Liverpool at the Echo Arena?
Tickets for Wednesday 14th November - Echo Arena Liverpool 1Xtra Live 2012 are now sold out.
Make sure you stay tuned Radio 1Xtra for all the latest news about 1Xtra Live 2012.
Is there an age restriction to attend?
What date will tickets be available?
Tickets for the Wednesday 14th November will be made available by online and phone from 9am on Wednesday 31st October. Tickets are now sold out.
What facilities are available at the venue
All disabled customer needs can be answered on the call centre number 0844 8000 400.
For all venue assistance questions please see:
What time will the events take place?
Doors will open at 6pm with the live broadcast starting at 7pm. All shows will be finished by 11pm.
How do I get to Echo Arena Liverpool?
Address:
Arena and Convention Centre Liverpool, Kings Dock, Liverpool Waterfront, L3 4FP
Please go the echo arena travel page for all travel information: