Claudia Winkleman
Despite being half woman, half fringe, Claudia has successfully managed to claim ownership of two of the BBC's flagship arts programmes by the clever means of attaching 'with Claudia Winkleman' to their titles.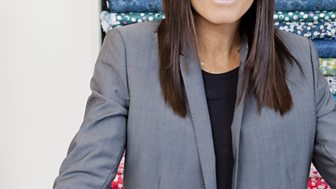 As such she can currently be heard every Friday night on BBC Radio 2 hosting The Arts Show with Claudia Winkleman, and be seen every Wednesday night on BBC1 presenting Film 2013 with Claudia Winkleman and Danny Leigh.
When not discussing the latest Hockney exhibition or chatting about Spielberg's most recent offering, Claudia loves nothing more than a twirl with Len Goodman. This had the potential to be quite awkward, so thankfully for all concerned the BBC devised Strictly Come Dancing. For the last three years Claudia has co-hosted the results show with Tess Daley, where her chat with the judges, Len's Lens, has become one of the highlights of the programme.
For the seven previous years Claudia indulged her love of fake tan hosting Strictly Come Dancing: It Takes Two on BBC2, getting all the behind the scenes gossip.
Claudia is a huge supporter of Comic Relief hosting Red Nose Day, Sport Relief, Let's Dance for Sport Relief and Let's Dance for Comic Relief.
A few soggy bottoms on The Great Comic Relief Bake Off prompted Claudia to branch off in a different direction of homemaking, presenting The Great British Sewing Bee produced by Love Productions for BBC2. She returns to our screens to host the second series.