Tubthumping
Radicalism rubs up against commercialism!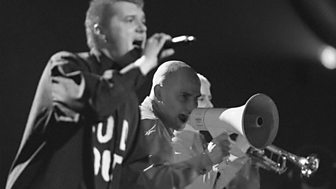 | Fact title | Fact data |
| --- | --- |
| First released: | 11th August 1997 |
| Written by: | Abbott, Bruce, Hamer, Hunter, Nutter, Watts, Whalley, Greco |
| First recorded by: | Chumbawamba |
Synopsis
Poor Chumbawamba: It seems that no matter how much your heart resides in the right place, you really are going to get knocked down… again and again. Written as a rousing anthem to wake a nation from the slumber of bread and circuses that New Labour seemed to be smothering us all in, as well as a reaction to the alcohol-swilling laddism that seemed to be youth culture's main motivational force ("He drinks a whisky drink, he drinks a lager drink"), 'Tubthumping' seems to have been remembered for all the wrong reasons.
I get knocked, down but I get up again

'Tubthumping'
Voted 12th 'most annoying song of all-time' by Rolling Stone magazine, its catchiness both attracted and repelled record-buyers (it achieved the #2 position in the UK charts and even made it to #6 in the States), most of whom possibly didn't really have a clue about the underlying politics of both song and band but were titillated by the subversive inclusion of the word 'p*ssing' in the first line and the football chant chorus. It was a shame, because, as a real anarchist collective formed in 1982 who still believed that music could change the world Chumbawamba had, for a brief moment, the world's attention. And probably for the very last time in the history of the British charts.
And let's not forget the infamous 1998 Brits appearance, where singer Danbert Nobacon slung a bucket of water over Labour's deputy leader John Prescott, following an on-stage amendment of the lyrics to address the recent betrayal (as they saw it) of the dockers. A nation by now unused to such direct civil action recoiled in polite horror over their cornflakes the following day, and the band sealed their place as eternal anarcho-outsiders in the capitalist world of pop. And despite refusing to license the song for a Nike advert (for 1.5 million dollars), it still ended up somehow on another more recent ad for, of all things, a personal injury lawyers' ad. From this point on, politics was never going to be on the agenda for a British chart act.