Jay: Twenty-Something DJ
Get the lowdown from Jay on how to stand out from the crowd as a DJ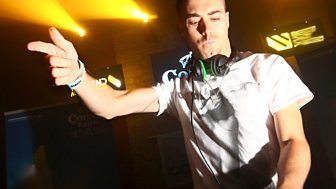 Did you always want to work as a DJ?
A meteorologist was my first career plan, but that soon changed when I realised I was rubbish at maths.
The emotional ride you get from seeing people enjoying themselves is addictive

Jay
Coming from a vaguely musical family it was inevitable that I'd do something in the field, and the more I DJed at parties as a teenager, the more I got the bug for it.
What do you love most about what you do?
The buzz from getting a crowd dancing and enjoying tunes is brilliant. Cheesy as it sounds, but the emotional ride you get from seeing people enjoying themselves is addictive. Add to that being able to play tunes you love really loud, and you've got a winning combination.
What did you enjoy most when you were at school?
Strangely physics, but once I started my A levels I realised it was all maths and gave up on it (did I mention I'm not very good at maths?!).
My favourite day at school was the day we left to go on revision leave. We set up a soundsystem and decks on a picnic bench and I DJed to the playground during lunch break. I'm not quite sure how we got away with it…
Did you go to Uni?
Yes. Portsmouth Uni was my home for four years, and after spending most of my time running the student radio station, I somehow managed to graduate with a BSc Hons in Internet Technology.
Although I've hardly since used what I learnt in my degree, I owe my career to my time at uni and specifically student radio.
What was your first paid job as a DJ and how did you get it?
A sixth form party at a pub! I think it was a friends 18th, and I'd already played at a few house parties before then, so my mates threw me a bit of beer money in exchange for playing some cheesy pop music (S Club 7 and Steps were both in the set list).
If you could give any advice to yourself when you were a teenager what would you say?
Have confidence, be nice and don't be afraid of what others think of you.
What's the most important thing you've learnt in your career so far?
Being friendly and doing a little bit of schmoozing (as long as it's not insincere – people will see through that) goes a long way.
Also, try and find your USP. If you can offer something that sets you apart from everyone else out there you will stand out from the crowd.
What are the three qualities someone who wants to work as a DJ should have?
Sadly the days of needing a high level of technical skill as a DJ seem to be fading. Any kid off the street with a few quid in their pocket is downloading a copy of Tracktor or Serato, sticking it on sync and saying they are a DJ. That's a good way to start, but you have to learn your craft. DJing takes skill - don't get ahead of yourself too soon.
For me, DJs should have great passion for music, fantastic tune selection, and know how to read a crowd.
Which websites/resources are musts for any aspiring DJ?
There's an enormous amount of blogs and YouTube channels that are great for music discovery.
1001tracklists.com, Beatport, Traxsource and iTunes are good for seeing what tunes are hot right now and keeping your finger on the pulse.
Publications like Mixmag and DJ Mag are brilliant.
Photo (c) Johnny Stephens