Dev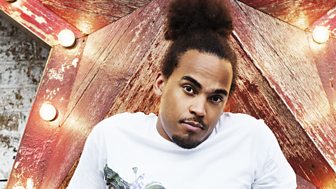 Where were you born?
London babeeeeeeh.
Your favourite hobby/present as a kid?
Fave hobbie is learning new things. Fave present as a kid was a mini keyboard. It only had one octave but I taught myself the Axel Foley tune. Oh yeah!
How did you get into DJing/presenting?
Completely by accident! I used to make pretend radio shows with my twin sister when we were kids so I supposed I was always destined to do something similar.
Who/what are your biggest influence(s)?
Jimi Hendrix, DJ EZ, my mum and Big Cook Little Cook [CBeebies programme].
What have been your biggest achievements?
Warming up for Kanye West at Hammersmith Apollo was pretty cool. Actually it was crap because I only had like five minutes but it was in front of 4000 people and I stood next to Kanye for like three seconds!!!
Name a key tune that you love or has inspired you.
I really like live music and I heard a live version of Earth, Wind and Fire's Summer Madness when I was young, about eight-years-old. It made the hairs on the back of my neck stand up! It made me want to learn how to play every instrument in there.
What is your dream gig or collaboration?
I think me and Teedra Moses could make some BEAUTIFUL music.
What interests or hobbies do you have outside music?
Guitar, drums, tattoos and skating.
What three rules do you live your life by?
1. Love your family. 2. Love your friends. 3. Love yourself
When did you last flop as a DJ?
Me? Flop? Never why what have you heard?!! It's not true it's all lies!
If you weren't a DJ / Presenter, what would you be? Blatantly busking around the country with a guitar and a bag full o' hopes.