Mrs Joe
Mrs Joe is Pip's sister and Joe's wife.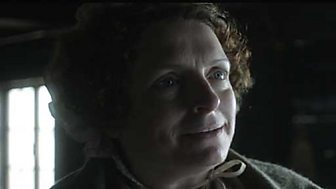 Raised up, Mr Gargery! And who's to say where we could be raised up to?

Mrs Joe
She is a stern and overbearing influence on both Pip and Joe. She keeps a spotless but comfortless household. Petty and ambitious, Mrs Joe dreams of being raised to a better station in life.
Claire Rushbrook
Claire most recently starred in BBC3 drama The Fades, playing Paul's mother. She has also appeared in Doctor Who, BBC comedy drama Mutual Friends and ITV1 dramas Whitechapel and Collision.