Molly Bloom
Niamh Cusack plays Molly Bloom in James Joyce's Ulysses, dramatised by Robin Brooks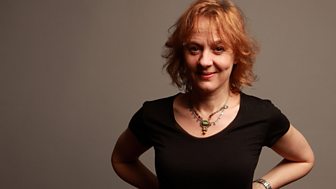 Molly Bloom is thirty-three years old, plump with dark colouring, good-looking, and very flirtatious. She is not well-educated, but is nevertheless clever and opinionated.
She is a professional singer, raised by her Irish father, Major Brian Tweedy, in Gibraltar.
Molly is impatient with Bloom, especially about his refusal to be intimate with her since the death of their son, Rudy, eleven years ago. She feels that she has no option but to take lovers, and is about to start an affair with Hugh 'Blazes' Boylan.
Niamh Cusack
Niamh Cusack's television acting credits include Always and Everyone and Wodehouse's Bobbie Wickham in the ITV series Jeeves and Wooster. In 2007, Cusack appeared in the Victoria Benedictsson's The Enchantment, at the Royal National Theatre and played Alison Ellis in Crestfall by Mark O'Rowe at Theatre503. In 2010, she played Catherine Dickens in Andersen's English, a play by Sebastian Barry and in 2011 in the new play The Painter by Rebecca Lenkiewicz and as Edith Davenport in Cause Célèbre by Terence Rattigan at the Old Vic.