Lydia Holly
Lydia Holly is a teenage girl with huge academic potential but very limiting social circumstances.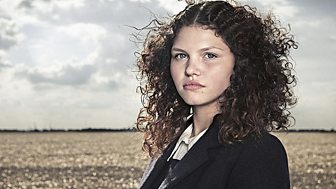 She lives in a railway carriage in a shanty town known locally as The Shacks with her parents and five siblings. Until now, Lydia's had to stay at home and help her mother raise the children but at last she can take up her scholarship at Kiplington High School. Sarah Burton recognises a gift in Lydia. She knows that education could entirely transform this girl's life but will Lydia ever be able to escape the cycle of poverty that has trapped her family for generations?
Charlie May-Clark
Charlie starred in British film Clubbed when she was just thirteen with South Riding co-star Katherine McGolpin. Charlie is currently studying A Level dance and for a B-Tech Performing Arts Diploma. Born and bred in Yorkshire, Charlie has a passion for acting and dancing which has shone through from a very early age.