Poppy Meadow
Poppy may come across as... how shall we say... a little bit 'uncomplicated'. But she isn't necessarily the pushover that she seems.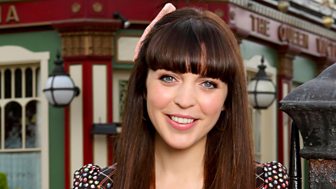 | Fact title | Fact data |
| --- | --- |
| First appearance: | 11th January 2011 |
| Last appearance: | 20th January 2014 |
| Occupation: | Unemployed Beautician |
But don't be fooled into thinking she's a pushover. This soft-hearted girl has courage. She won't tolerate liars and will stand up to bullies if she needs to.
Everything's just so 'lovely' in Poppy's little world where nothing bad happens and if it does she'll find a way to flip it around. Nothing is more important than friends and family to her, they're the centre of her world.
The best thing about Poppy? How she brings out the best in everyone. And this soon resulted in Poppy bagging herself a new boyfriend, Fatboy.
Saving up for a place together, they continued to save for their dream pad together, Poppy found a seemingly perfect new build not far from her parents, outside London. Poppy ignored Fatboy's reservations about her idealistic views for their future in the suburbs and he eventually exploded. He told Poppy that he didn't want any of that and shocked, Poppy ran off in tears. Fatboy rushed after her but Poppy ended their relationship leaving Fatboy stunned.
Rachel Bright
Rachel has appeared in several theatrical roles, starring in Never Saw the Day, Hello Again and Head-Rot Holiday.
Rachel has also appeared in the films Silly Billy, Just Say Something and American Dream.
Follow Rachel on twitter: @Rach_Bright