Eddie Moon
Although he was a charismatic cockney, Eddie also had a touch of class. As well as being popular with the ladies, Eddie was a gentleman, with an eye for an antique and big ambitions.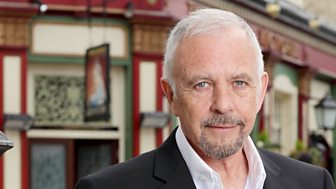 | Fact title | Fact data |
| --- | --- |
| First appearance: | 3rd June 2011 |
| Last appearance: | 6th October 2011 |
| Occupation: | Antiques emporium owner |
In spite of his bubbly personality, Eddie lived in the shadow of his past. His first love had ended tragically when his first wife killed herself.
You've made your point, now leave.

Eddie Moon
Wracked by guilt and blamed by their son, Michael, Eddie detached himself from the family. Things went further downhill with Michael when Eddie went on to have a new family, and had two sons - Anthony and Tyler.
Reconnecting with Michael in Walford years later, it looked to everyone as if Eddie and his son had resolved their differences. But Michael was hungry for revenge and paid Vanessa Gold to sleep with him and break his heart.
Vanessa fell for Eddie and when Eddie finally revealed the truth to Michael about his mother's death and introduced him to his brother Craig, who had Down's Syndrome, Michael realised his mistake.
When Vanessa revealed what Michael had done, Eddie set up Vanessa and Michael and went with Craig to Spain to stay with his daughter, Frankie.
Played by David Essex