Richard Cadey
Richard Cadey is a co-presenter and entertainment reporter for BBC Radio Scotland's daily magazine show.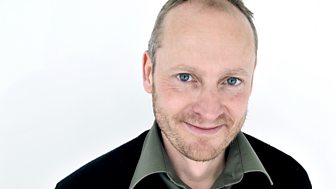 Richard Cadey was born in Cleethorpes in the summer of love (the first one) and this possibly explains why he's always had a penchant for Kaftans, Patchouli oil and novelty rock.
Despite his passion for football and cricket it became clear that he would never captain his country in either sport. Instead he sought refuge in the diverse comedy talents of Laurel & Hardy, Eric Morecombe, Woody Allen and Monty Python's Flying Circus. He first whetted his appetite for broadcasting by enjoying the diverse range of music and the wry presenting style heard on Radio 1's John Peel "Wing-Ding".
However, his real inspiration to work in radio took hold with the emergence of presenter Mark Radcliffe. For the first time he heard a northern voice on national radio whose music taste and humour chimed with that of his own.
Having been made redundant from his office job in the early nineties he went back into education as a mature student. There he began his first forays into radio, presenting a daily music show. He then went onto become a dissenting voice on the review panel of a weekly BBC Radio Humberside music show.
His final project as a student was a documentary feature on the career of John Peel; Peel consented to be interviewed in his kitchen, while his wife Sheila made Cadey tea and sandwiches.
The feature also included contributions from musicians and former Radio 1 colleagues. It was very well received and following his graduation he was offered a job as a radio production tutor in the media department.
By now he had met and married his French wife Gaëlle. They had met in Cleethorpes where he had introduced her to the finest fish and chips money could buy and she had introduced him to fine burgundy wine he couldn't afford to buy. A fair swap. After a year as a tutor he moved south in order to pursue his career in broadcasting.
He began working on MacAulay & Co as a roving reporter over ten years ago and in that time he has clocked up thousands of miles criss-crossing a country he loves, in search of great stories, great people and only occasionally great puns...
He has a warm, friendly personality, is quick-witted and displays an admiral willingness to throw himself into anything asked of him by a creative, imaginative, and at times slightly sadistic, production team. He loves chatting and meeting people and these are both essential requirements of his role on the show. Hurrah!
He is very happily married (Gaëlle was unavailable for comment...) and he is blessed with two gorgeous children, Lara 8 and Max 3. He loves his job, but still has the occasional pang to be captain of the England cricket team. He consoles himself by sucking on a stick of novelty rock and drinking fine burgundy wine, which he still can't afford.
MacAulay and Co Clip
Richard Cadey gets a new haircut.