On-Site Restaurant
The vast majority of hospitals are still in control of their on-site staff and patient restaurants.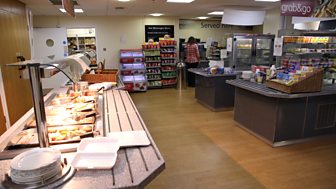 The food for these restaurants is either cooked out of the same kitchen as the patients' food if they are 'cook-serve', or a small independent kitchen if they operate a 'cook-chill' or 'freeze' system.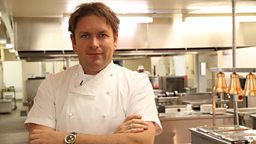 Coming from a commercial restaurant background, I quickly identified a number of ways that these on-site restaurants aren't typically operating as effectively – or as profitably – as they could be.
The beauty of a hospital is that you have a captive customer base, with thousands of staff and visitors needing to be fed.
One of the first things I implemented in Scarborough was to get them to serve the same food in the restaurant as that was being served to the patients on the ward.
My argument was, 'If it's good enough for the patients then it should be good enough for the staff!'
If it's good enough for the patients, it should be good enough for the staff!

James Martin
This works on two levels. It means the kitchen can control its stock levels more efficiently. It also keeps its standards high, because if the food slips, then the paying customers will stop buying it!
The second thing I implemented in Scarborough, Birmingham and Kings Lynn was a baguette bar.
When I spoke to the staff, a lot of them were in a hurry and just wanted to grab a baguette and a soup during a quick lunch break.
Although there were always larger main meals on offer, the vast majority of people didn't want those and wanted lighter options.
I firmly believe that the best area for profit lies within rolls and sandwiches.
I've been into hospitals that buy up to an astonishing 60 varieties of pre-packed sandwiches!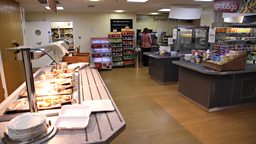 I understand that not all hospitals have the facilities to make their own sandwiches on-site, but this is by far the best and most cost effective way to sell them.
If not, you should streamline your fillings and really shop around for supplies for the best price, not forgetting to look locally!
These changes, however simple, can have a massive effect on the profitability of your restaurants.
The Scarborough baguette bar alone turns over £45,000, and the year after I worked with them, their footfall increased by 21,000!
The last thing I would say: try to get your CEO on board. Get them to agree that any profit generated through the restaurant gets ploughed back into the catering department, meaning better equipment and, most importantly, better food for the patients!
Hospital simplifies 280-dish menu
"Prior to James working with us we had a two week menu covering lunch and evening meal, one for the patients and one for the restaurant," writes Emma Bridge, head of facilities, Royal Orthopaedic Hospital, Birmingham.
By rationalising the menu, the chefs have more dedicated time per dish

Emma Bridge
"This was a total of 280 different dishes being cooked in a two week period.
"Whilst we were able to deliver this menu it did have several implications:
The kitchen was under an immense amount of pressure to produce so many different meals each day which affected the quality
It reduced our buying power because we were buying so many different ingredients
The kitchen would produce more of the ward meals than necessary in case they received call backs for last-minute admissions, which would increase our waste because the same dish was not on the menu to be sold in the restaurant
To change the menu to represent the seasons was incredibly difficult due to all the checks that need to be completed with our dieticians over so many dishes
"By rationalising the menu to a one week menu, which would also be served in the restaurant, it has meant: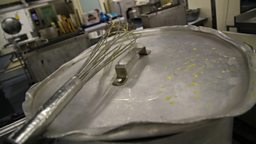 Increased buying power as we are buying more of the same ingredients
Increase in quality as the chefs have more dedicated time per dish. This allows them to pay closer attention to detail, including garnishing the dish, as they are not making as many dishes
A more efficient call-back system, as any additional food required on the wards can be sent up from the restaurant which also means our waste is reduced
More frequent menu changes to suit the seasons
"It also demonstrates to our patients that what they are eating is of the same high standard that is suitable for serving in our restaurant."
Harlow: Early signs good for weekly menu
By Andy Slade, Princess Alexandra Hospital, Harlow
"We only recently introduced a weekly menu cycle, but early signs are good.
"In the restaurant, James's homemade soups are extremely popular, as are the fresh baguettes and the bulgar wheat salads.
"I'm optimistic that the changes we have made will make the restaurant much more profitable!"