About the BBC Singers
The BBC Singers hold a unique position in British musical life. Performing everything from Byrd to Birtwistle, Tallis to Takemitsu, their versatility is second to none.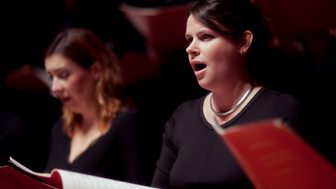 The choir's unrivalled expertise in performing the best of contemporary music has brought about creative relationships with some of the most important composers and conductors of the 20th and 21st centuries, including Poulenc, Britten, Judith Bingham and Sir Peter Maxwell Davies.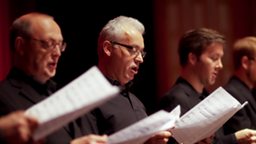 Following a successful 90th anniversary season, the BBC Singers' 2015-16 season is as thrilling and diverse as ever. A third season of concerts in London's newest concert venue, Milton Court Concert Hall, includes Monteverdi's Vespers with I Fagiolini, Handel's Saul with a host of first-rate soloists, a magical presentation of Dylan Thomas's A Child's Christmas in Wales led by Chief Conductor David Hill and a poignant concert remembering the battle of the Somme.
The Singers at Six series of early-evening concerts in the atmospheric surroundings St Giles' Cripplegate continues with Mahler's Vienna, American Songs and music by Elgar, Judith Bingham and James MacMillan.
Based at the BBC's Maida Vale Studios, the BBC Singers also give regular free concerts at St Paul's Knightsbridge, as well as regularly appearing at major festivals across the UK and beyond.
Associate Composer
Judith Weir has a long-standing relationship with the BBC Singers, who have been performing her music for over 10 years. Her first commission for the group was Concrete which premiered in 2008 at the BBC Composer weekend. The BBC Singers have performed Weir's music in many notable venues including the Barbican Centre, Cadogan Hall, at the BBC Proms in the Royal Albert Hall and at St Magnus International Festival.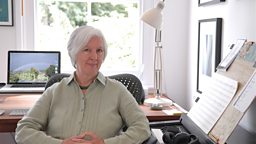 Weir has also had a long association with Spitalfields Music Festival and in recent years has taught as a visiting professor at Princeton, Harvard and Cardiff universities. Honours for her work include the Critics' Circle, South Bank Show and Elise L Stoeger awards, a CBE and the Queen's Medal for Music. In July 2014, she was appointed to the 388-year old Royal position of Master of the Queen's Music, in succession to Sir Peter Maxwell Davies.
Former Associate Composers
Gabriel Jackson 2010 - 2013
Judith Bingham 2006 - 2010
Edward Cowie 2002 - 2006
How to Apply
Permanent vacancies within the BBC Singers are advertised on the BBC Jobs website.
In addition, we hold regular auditions for our list of extras and deputies. If you wish to apply for a deputy list audition, please email us your Singing CV (which should include details of your training and expertise).
For more information about the deputy list auditions, and to find out about the set repertoire you would be required to prepare, please contact the Audition Coordinator.