Monika Westin
Monika has been a friend of Wallander's family since her daughter, Anna, and Linda used to play together as girls.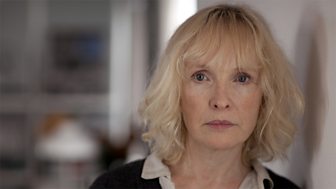 She was abandoned by her husband, who later committed suicide in the US: the separation and the suicide caused a deep rift in her relationship with Anna, and now they're pretty much estranged.
Ever get the feeling you've failed your child?

Monika
She lives alone in a large house in the countryside, making weird sound installations for art galleries. Her present project is a Symphony for Crying Voices.
Back in the day, she and Wallander had a flirtation which might have developed into an affair under different circumstances.
She's a desperately sad woman with secrets.
Lindsay Duncan
Lindsay Vere Duncan, CBE (born 7 November 1950) is a Scottish stage, television and film actress. She has won two Olivier Awards, a Tony Award for her performance in Private Lives, and another Tony Award nomination for her role in Les Liaisons dangereuses. She was awarded a CBE in 2009 for services to drama (from Wikipedia).