Jason Gardiner
Choreographer and television personality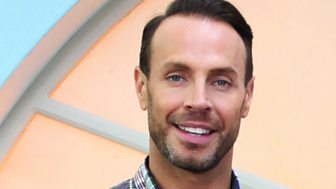 Jason, 41 is an Australian choreographer and best known for his controversial judging style on shows such as ITV's Dancing on Ice and Stepping Out. Jason is originally from Melbourne, Australia but has lived in London for over 15 years.
Being a judge I know that being criticised it all part of it

Jason
Jason is a well-known judge, with success in both the UK and Australia. He has appeared as a judge on Dancing on Ice alongside Karen Barber, Ashley Roberts, Robin Cousins and skating legends Jane Torvill and Christopher Dean. He is also on the judging panel for Stepping Out alongside Mel B and Wayne Sleep.
As a choreographer, he has worked with Dame Shirley Basey, Cher, Kylie, Emma Bunton and Elton John.
He submitted his first musical at the age of 12 and was the youngest ever applicant to attend The Workshop in Sydney.
He began his professional career at 16 as one of the original Australian cast of 42nd Street and has since performed in over 20 award winning musicals including Cats, Chicago and West Side Story in London's West End.
Baking Experience
Spent lots of time with his grandmother growing up - she baked every day. He helped out by mixing and licking the wooden spoon clean. He associates the smell of baking with her and gets very emotional. She died when he was 19 and he couldn't attend the funeral because he was on Broadway.
Has made red velvet cupcakes, chocolate chip cookies and Halloween themed gingerbread biscuits with his godchildren but wouldn't call himself a baker.
His mum is very excited and offered words of encouragement and grandma's recipes.
His aunt has a recipe of the day on her facebook page every day so he is feeling the pressure to do the family proud.
The Bake Off
He has consulted his friend Penny, pastry chef at Oxo Tower, for advice to simplify his recipes but to have maximum impact.
He loves Mary Berry; she's a phenomenon and would love to have her as a dinner party guest. Can't wait to be stripped down by Mary and Paul and told what they really think of him.
He's sportphobic and avoids it at all costs but loves what Sport Relief stands for. He's an ambassador for Barnados and wants to do this to help kids. He's been asked before to do 5-a-side football and teamsports which he refused to do, but Paul, Mary and baking is right up his alley.