Leopold Bloom
Henry Goodman plays Leopold Bloom in James Joyce's Ulysses, dramatised by Robin Brooks.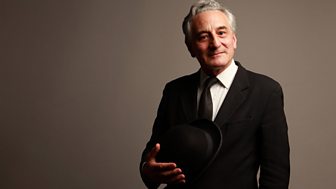 Bloom, who is 38 years old in 1904, works selling advertising space for newspapers. He was brought up in Dublin by his Hungarian Jewish father, Rudolph, and his Irish Catholic mother, Ellen.
Bloom married Marion Tweedy when he was in his early twenties, and they had their daughter, Milly in 1889 (she is now 15 and is working at a photographer's studio in Westmeath). Several years after Milly was born, they had a son, Rudolph, but he died in infancy. In the eleven years since Rudy's death, Leopold and Molly have not had sex together. They sleep in the same bed, but with Bloom's feet by Molly's head. He is having a flirtatious correspondence with Martha Clifford, and it is clear that he has been with some of the prostitutes in Dublin.
Bloom knows about Molly's flirtation with Hugh 'Blazes' Boylan, and is fully aware that Boylan will be visiting Molly at four o'clock in the afternoon, and that they will have sex.
Bloom has been educated at the university of life. He enjoys reading and thinking about science and inventions and explaining his knowledge to others. Bloom is compassionate and curious and loves music and the theatre.
There is no indication that Bloom is a practising Jew. He certainly doesn't observe jewish dietary rules as he is partial to a pork kidney. He is superstitious and carries a lucky potato.
Henry Goodman - Biography
Henry Goodman is a British theatre actor. He won the Olivier award for Best Actor in 1993 for his role in Stephen Sondheim's musical Assassins and in 2000 for his role as Shylock in The Merchant of Venice directed by Trevor Nunn.
He played the lead role of Tevye in Lindsay Posner's 2007 revival of Joseph Stein's Fiddler on the Roof, and in 2008 played the lead character in the radio serial The Way We Live Right Now. He took part in the 2009 London revival of Duet for One with Juliet Stevenson.
In 2010 he played the role of Sir Humphrey Appleby in the stage version of Yes, Prime Minister at the Chichester Festival Gielgud Theatre, in London's West End from 17 September 2010.