Rico Hizon
Rico Hizon was born in the Philippines in 1966, and raised and educated in Manila. He completed a degree in broadcast journalism and business at De La Salle University.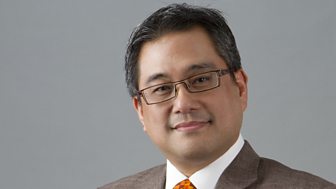 Rico joined BBC World News in 2002 in Singapore, where he is the presenter of the daily business and finance programme Asia Business Report.
He also co-presents Newsday with Babita Sharma who is based in London.
Rico has travelled to Hong Kong, Indonesia, Japan, South Korea, Thailand, Malaysia and the Philippines to cover a range of news reports, from the impact of the financial crisis to the boom of the Asian property sector.
In his almost 25 years as a broadcast journalist he has interviewed personalities in the financial, political and sporting worlds - from Microsoft´s Bill Gates and Steve Ballmer, Air Asia's Tony Fernandes, Virgin's Sir Richard Branson, billionaire Warren Buffet and top hedge fund managers George Soros and Mark Mobius.
Among the world leaders he has interviewed are former Malaysian Prime Minister Mahathir Mohammad, European Union President Jose Manuel Barroso, Nobel Prize Laureate Muhammad Yunus, Indonesian President Susilo Bambang Yudhoyono, US President Bill Clinton and Philippine presidents Fidel Ramos and Gloria Macapagal Arroyo.
In the sporting world he has interviewed world boxing champion Manny Pacquiao, basketball stars Lebron James and Kobe Bryant and top female golfers Michelle Wie and Lorena Ochoa.
In the entertainment world he has talked to Hollywood actress Michelle Yeoh, K-Pop phenomenon PSY, American Idol judge Steven Tyler, musical stars Lea Salonga and Charice and pop music composer David Foster.
Before starting his broadcast career, he lectured from 1989-1990 at De La Salle University. He then started his journalism career at Manila-based GMA-7 network as an anchor and business reporter.
He joined CNBC Asia in Hong Kong in 1994, before eventually moving to Singapore where he hosted CNBC Today, Market Watch and Power Lunch.
Rico is a multi-award-winning broadcast journalist. In 2012 he garnered the prestigious Rotary Club of Manila, Broadcast Journalist of the Year Award and was accorded a Doctorate Honoris Causa in Humanities by the University of Northeastern Philippines.
In 2009 he was awarded La Sallian Achievement Awardee for Global Journalism. In 2008 he was the Philippine Presidential Awardee for excellence in International Journalism. In 2008, Bank of the Philippine Islands recognised Rico for bringing honour and recognition to the Philippines with the BPinoy Award. In 2006, he was awarded The Outstanding Young Men (TOYM) Award for International Journalism and Community Service.